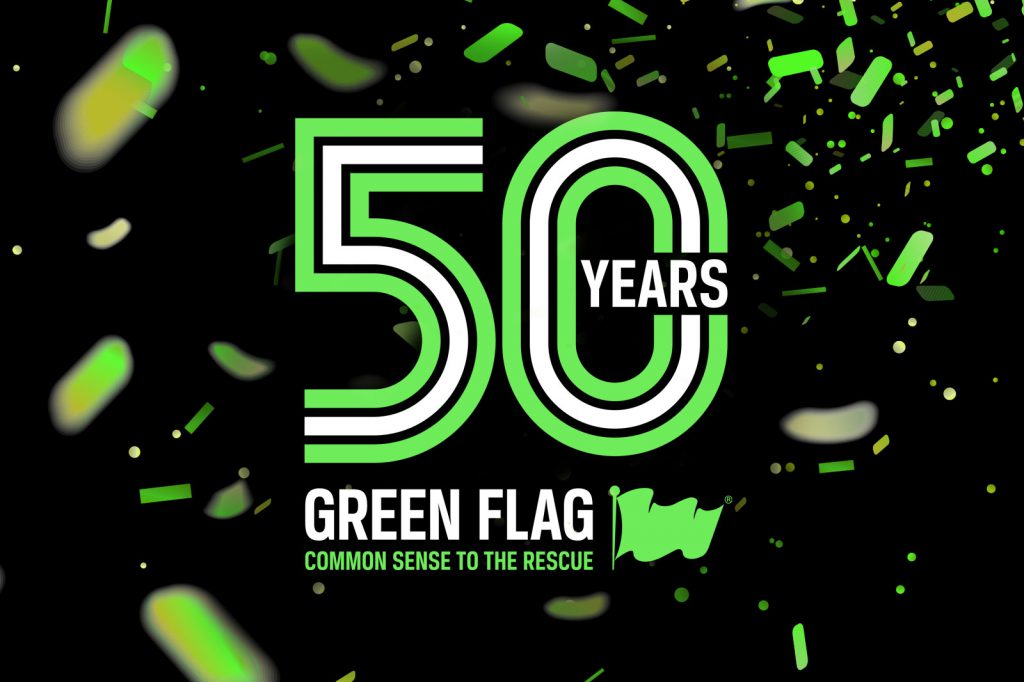 We're celebrating a pretty major milestone this year.
It's our 50th birthday.
Before you say it, we know, we look good for our age. Thank you very much.
We want to celebrate the big 5-0 with all of you. So, we're heading to Manchester, Bristol, and London to give out free portions of fish and chips with our friends at The Frying Squad.
"What's the catch?"
No catch, other than the fish itself, obviously.
All you need to do is turn up to one of the locations below, grab a voucher, then get your free lunch from The Frying Squad.
As with any freebie, make sure you get there quickly, as it's first come first served and numbers are limited.
The three lucky plaices (sorry) serving up The Frying Squad's tasty grub are:
Piccadilly Gardens, Manchester on 21 September, from 11am – 3pm.
Cabot Circus, Bristol on 22 September, from 11am – 3pm.
Cardinal Place, London on 24 September, from 11am – 3pm.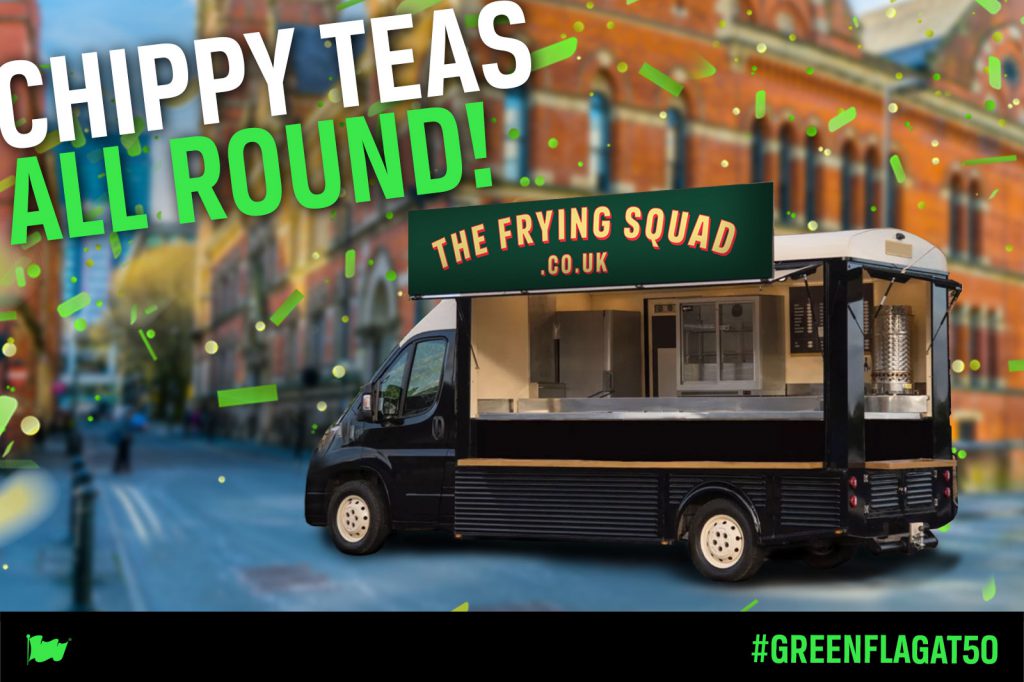 "Sounds great… but why fish and chips?"
Other than because it's delicious?
Well, 50 years ago when we first started, our office was actually in a fish and chip shop.
There's a joke about our cover being 'cheap as chips' in there somewhere…
Can't make it? Don't worry, we've got a competition for you.
We want everyone to join in with the celebrations. So, we have a competition for anyone that can't make it on the day.
50 lucky winners will win a £50 Deliveroo voucher, so they can enjoy their preferred dish from home. Fish and chips is highly recommended, but you do you.
To enter, head over to our pinned post on Twitter (@GreenFlagUK) or on Facebook and tell us which three cities we'll be visiting on our birthday tour with The Frying Squad. You can see all the T&Cs (and a bunch of other letters) below.
Right, we're going to go get our party hats sorted. We'll see you in Manchester, Bristol, and London!
Competition T&Cs
Green Flag Facebook and Twitter prize draw: terms and conditions
50 x £50 Deliveroo vouchers
ELIGIBILITY
1. Entry is open to Facebook and Twitter users based in the UK aged 16 years or over. Proof of age may be required. Employees (or family members of employees) of the Promoter or Administrator, companies associated with the prize draw and all affiliates of such companies may not enter the prize draw.
FACEBOOK AND TWITTER PRIZE DRAW
2. Entrance into the prize draw will open on 20th September at 11:00am (BST) and close on 26th September at 11:59pm (BST). To enter you must correctly comment the three cities we will be visiting on the pinned prize draw post on Facebook or Twitter.
3. Entries must be received by 11:59 (BST) on the closing date of the prize draw.
4. Each entrant can submit a maximum of one entry and no purchase is necessary.
5. Entrants will be deemed to have accepted these terms and conditions and agreed to be bound by them when entering this prize draw.
WINNERS
6. Winners will be randomly drawn in a prize draw from all valid entries according to the requirements as described above, and will be drawn by PromoVeritas, an independent promotional verification service, within 5 working days of the end of the Promotion Period. The decision is final and no correspondence will be entered into.
7. The 50 winners will be notified via direct message on the platform in which they entered the prize draw within 5 days of the draw being conducted. The message will include an email address which will need to be contacted confirming relevant contact details. The voucher will then be sent to the email supplied by the entrant within 28 days of prize acceptance.
8. If the winner of the prize draw cannot be contacted within 14 days a new winner will be selected from the remaining entries.
9. In the event of any dispute, the decision of the Promoter is final. In the event of unforeseen circumstances, the Promoter reserves the right to substitute the prize for an alternative of equal or greater value. No correspondence will be entered into.
PRIZES
10. The 50 winners will receive 1 x £50 Deliveroo voucher each.
11. The prize is not transferable. The prize must be taken as stated and no compensation will be payable if the winner is unable to use the prizes as stated.
12. Entries not submitted in accordance with these rules will be disqualified and the Promoter shall not be responsible for any such entries received.
13. Bulk entries made from trade, consumer groups or third parties will not be accepted. Incomplete or illegible entries, by or via third parties or syndicates, entries by macros or other automated means (including systems which can be programmed to enter), and entries which do not satisfy the requirements of these terms and conditions in full will be disqualified and will not be counted. If it becomes apparent that a participant is using a computer(s) to circumvent this condition by, for example, the use of 'script', 'brute force', masking their identity by manipulating IP addresses, using identities other than their own or any other automated means in order to increase that participant's entries into the prize draw in a way that is not consistent with the spirit of the promotion, that person's entries will be disqualified and any prize award will be void.
14. The Promoter reserves the right at its absolute discretion to disqualify Entries which it considers do not comply with these terms and conditions or any participant who it reasonably believes has interfered with the fair running of this Promotion.
15. The Promoter shall have the right, where necessary, to undertake all such action as is reasonable to protect itself against fraudulent or invalid claims including, without limitation, to require further verification as to the identity, age, and other relevant details of a participant.
PROMOTER
16. The Promoter reserves the right to alter, amend or foreclose the prize draw without prior notice.
17. As far as permitted by law the Promoter excludes all liability in connection with the prize or prize draw.
DATA
18. By entering this prize draw you consent to the Promoter's and its agents' use of your personal data for the purposes of administering this prize draw.
19. The Promoter reserves the right to publish the name and county of residence of the winners plus the winning entries. The winners may be required to participate in the Promoter's marketing and promotional activities and by entering the Promotion consents to such participation. See our privacy policy at https://u-k-insurance.co.uk/brands-policy.html
GENERAL
20. This prize draw is in no way sponsored, endorsed or administered by, or associated with, Twitter or Facebook. You are providing your information to the Promoter, not to Twitter or Facebook. The information you provide will only be used for this prize draw. By entering this prize draw, you agree to a complete liability release for Twitter and Facebook.
21. By entering the Promotion, the participant agrees to release the Promoter from any liability whatsoever for any claims, costs, injuries, losses, or damages of any kind arising out of or in connection with the Promotion or with the acceptance, possession, attendance at or use of any prize (except death or personal injury caused by the Promoter's negligence, for fraud, or otherwise as prohibited by law).
22. These terms and conditions shall be governed by and construed in accordance with the laws of England and Wales and the courts of England shall have exclusive jurisdiction in relation to any disputes arising.
The Promoter is U K Insurance Limited trading as Green Flag registered office: The Wharf, Neville Street, Leeds LS1 4AZ Registered in England and Wales, Reference Number 1179980.