Unsure how to arrange a rescue through the Green Flag app? Not to worry. Here, we'll walk you through every step.
Before you can arrange a rescue, you'll need a policy linked to your app. If you haven't done that already, you can read our guide here.
Please note, our app is not available for Excess and Fleet policies, or for vehicles registered in the Isle of Man.
Your version of the app may look slightly different to the images below. But, the information and the steps will be the same.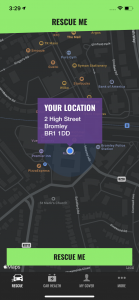 To arrange your rescue, tap the green 'RESCUE ME' button.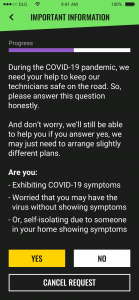 Currently, due to the ongoing COVID-19 pandemic, you'll see this screen.
Please make sure you give this a read and answer honestly. This is vital in helping us keep our technicians safe.
Let us know where your broken down vehicle is. In some cases, for your safety and to make sure we can get to you as quickly as possible, we may ask you to give us a call.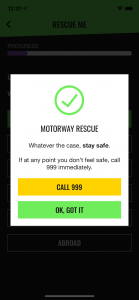 If you select 'Motorway', you'll see this screen. There are a few steps that are unique for motorway rescues that we'll quickly walk you through.
If you didn't select motorway, you can jump forward a couple of steps to where we talk about towing.
Motorway breakdowns can be particularly stressful, so it's important that you follow some simple steps to make sure you, your vehicle and any passengers stay safe.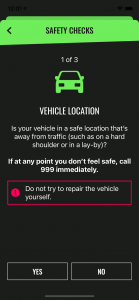 The app will walk you through these safety steps and ask a few quick questions to check where you are. If you're worried at any point, you can always call 999 for help.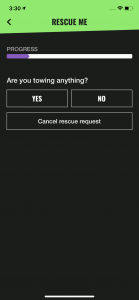 Next, whether you're on a motorway or not, we need to know if you're towing anything.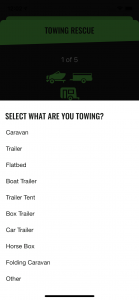 If you are towing something, you'll need to let us know a few details, such as the size of what you're towing, what type of axle it has, and which type of towball or hitch you're using.
If at any point you're not sure about an answer, don't worry, the app will provide you with more info (and a number to call if you need some extra help).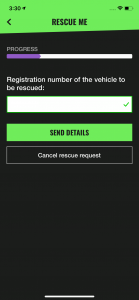 Whether you're towing something or not, the next bit is the same – you'll need to type in the registration number of the vehicle that's broken down and continue.
Oh, and just so you know, you can cancel your rescue at any time by pressing the 'Cancel rescue request' button at the bottom of the screen.
If your phone's GPS is on, you should see your location on the screen.
If you can't use your GPS or the location doesn't seem to be correct, you can type your location into the 'Find your location' search bar at the top of the screen.
If you're on a motorway, you'll be prompted to tell us which motorway you're on and which direction your travelling in – this'll make it easier for us to find you.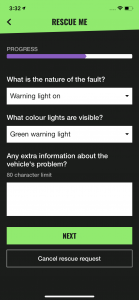 To make sure your technician has as much information as possible before they arrive, we'll ask you what has gone wrong with your vehicle.
Don't worry, we won't make you go into serious detail. Just use the drop down boxes to let us know what's happened.
If you are able to provide any further information, please do type it in the box.

Let us know which type of vehicle you have by selecting from the drop down list. Then, tell us how many people there are in the vehicle (this number includes yourself).
Then, we need to know if your vehicle is in an area with restricted headroom. This is very important, as it will impact the equipment or vehicle a technician can use.
If you have any pets with you, please let us know. If you answer yes, you'll see a quick message with some extra advice just for you.
Finally, you can choose when you'd like your technician to come and help (unless you're on a motorway, in which case we'll come out to help you as soon as possible). You can have your technician come as soon as possible, or you can arrange a timeslot if that's preferable. The choice is yours.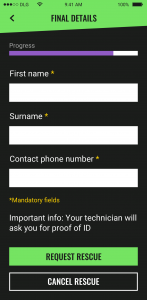 Last up, let us know your name and the best number to contact you on, just in case we need to get in touch.
Once you've done that, tap 'Request rescue' to, well, request your rescue.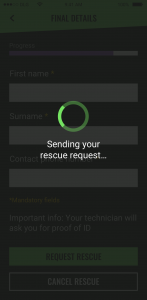 Don't panic if you see this screen for a short while. Depending on where you are and how good your signal is, this could take a little bit of time.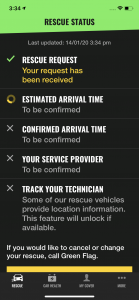 Once we've received your rescue request, you'll see a screen like this.
When your technician is on the way, you may be able to track their location as they travel to you, just for some extra peace of mind. For our quick guide on how to track your technician, just tap here.